Ultimate Pangandaran Beach Holiday Guide: Tips for an Unforgettable Tropical Getaway
Pangandaran Beach Holiday Guide – Pangandaran Beach is a hidden gem on the southern coast of West Java, Indonesia. With its pristine shores, lush tropical forests, and vibrant local culture, it's the perfect destination for a memorable beach holiday. In this article, we will provide you with valuable tips to make the most of your Pangandaran Beach experience.
1. Plan Ahead: Crafting a Detailed Itinerary
Planning ahead is crucial for ensuring a smooth and enjoyable Pangandaran Beach holiday. Start by outlining a comprehensive itinerary. Consider the duration of your stay, preferred activities, and places to visit. Research the available accommodations, transportation options, and popular attractions to make informed decisions.
Begin by booking your accommodation well in advance, especially during peak seasons, to secure the best options at your desired price range. Explore various types of lodging, from luxurious beachfront resorts to cozy guesthouses, ensuring they align with your preferences and budget.
Additionally, create a flexible schedule that allows for spontaneity and relaxation while ensuring you don't miss out on must-see spots or experiences. Factor in travel time, leisure activities, and specific attractions to make the most of your time at Pangandaran Beach. Remember to be open to adjustments and unexpected discoveries during your holiday.
2. Ideal Time to Visit Embracing the Best of Pangandaran's Seasons
Choosing the perfect time to visit Pangandaran Beach Holiday Guide can significantly enhance your overall experience. The optimal period to savor the beauty and activities the beach offers is during the dry season, which spans from April to October.
During these months, the weather tends to be more predictable, with fewer chances of rain and milder temperatures. The calmer seas and sunny skies make it ideal for indulging in various water-based activities, from swimming to snorkeling, with a reduced risk of unexpected weather disruptions.
However, it's crucial to note that the dry season is also the peak tourist period. Accommodations may get booked quickly, and popular spots might be more crowded. If you prefer a more serene and relaxed atmosphere, consider visiting during the shoulder months (April or October), when the weather remains favorable but the crowds are thinner.
On the other hand, while the wet season (November to March) brings occasional rains and more unpredictable weather patterns, it also offers a unique charm. The lush greenery and fewer tourists can create a more intimate and tranquil experience. Just be prepared for occasional showers and plan your activities accordingly.
3. Accommodation Options Tailoring Your Stay at Pangandaran
Pangandaran Beach Holiday Guide presents a diverse array of accommodation choices, catering to various preferences and budgets. Whether you seek lavish comfort, proximity to the beach, or budget-friendly options, the area offers a spectrum of places to stay.
Luxury Resorts Pangandaran Beach Holiday Guide:
For those desiring a touch of opulence, luxury resorts boasting stunning beachfront locations and top-tier amenities await. These resorts often feature spa facilities, swimming pools, and fine dining options, providing a truly indulgent holiday experience.
Rental prices at luxury resorts in Pangandaran Beach Holiday Guide:
| Resort Name | Room Type | Price Range per Night |
| --- | --- | --- |
| Serenity Sands | Deluxe Room | $150 – $250 |
| Tranquil Tides | Ocean View Suite | $200 – $350 |
| Paradise Cove | Beachfront Villa | $300 – $500 |
| Azure Horizons | Luxury Bungalow | $250 – $400 |
Please note that these prices are indicative and subject to change based on various factors, including the time of booking, room availability, and any seasonal promotions or offers. It's advisable to directly contact the respective resorts for the most up-to-date and accurate pricing information.
Beachfront Villas:
Embrace the serene charm of the beach by choosing a beachfront villa. These accommodations offer the luxury of waking up to the soothing sounds of the waves, providing a more private and intimate atmosphere.
Rental prices for beachfront villas in Pangandaran Beach Holiday Guide, West Java:
---
| Villa Name | Price Range (Per Night) | Amenities |
| --- | --- | --- |
| Seaside Paradise Villa | $120 – $150 | Private Beach Access, Infinity Pool, BBQ Area |
| Coastal Serenity Villa | $100 – $130 | Ocean View Balcony, Fully Equipped Kitchen, Wi-Fi |
| Sunset Cove Retreat | $140 – $180 | Direct Beach Access, Outdoor Lounge, Breakfast |
| Beachfront Bliss Villa | $110 – $140 | Spacious Rooms, Garden Area, Water Sports Equipment |
| Oceanfront Haven Villa | $130 – $160 | Jacuzzi, Personal Chef Service, Scenic Sun Deck |
---
These beachfront villas in Pangandaran Beach, West Java, offer a range of prices and amenities, providing a luxurious and picturesque stay right by the sea.
Budget-Friendly Guesthouses:
If you're on a tighter budget, the guesthouses in Pangandaran provide comfortable and affordable stays. These guesthouses often offer basic amenities and a cozy environment, ideal for budget-conscious travelers.
It's advisable to book your accommodation well in advance, especially if you're planning your trip during the peak season. This ensures you secure your preferred lodging choice and potentially benefit from early booking discounts. Moreover, consider the location in relation to the attractions you plan to visit and the amenities that align with your vacation goals. By selecting the accommodation that best suits your needs, you can elevate your Pangandaran experience to an unforgettable level.
budget-friendly guesthouses in Pangandaran Beach Holiday Guide:
---
| Guesthouse Name | Price Range (Per Night) | Amenities |
| --- | --- | --- |
| Santai Guesthouse | $20 – $30 | Free Wi-Fi, Garden View, 24-hour Front Desk |
| Paradise Homestay | $25 – $35 | Air Conditioning, Breakfast Included, Close to the Beach |
| Serenity Inn | $18 – $28 | Shared Lounge, Bike Rental, Complimentary Toiletries |
| Sunflower Cottage | $30 – $40 | Private Balcony, Daily Housekeeping, Restaurant Nearby |
| Ocean Breeze Guesthouse | $22 – $32 | Free Parking, Family Rooms, Outdoor Activities Nearby |
---
These budget-friendly guesthouses offer various amenities and comfortable stays without breaking the bank, allowing visitors to enjoy their time in Pangandaran.
4. Exploring the Beach: Unraveling the Enchantment of Pangandaran's Coastal Haven
Pangandaran Beach serves as a haven for beach enthusiasts, offering an array of experiences and discoveries that cater to every visitor's desires.
Relaxation and Sunbathing:
Sink your toes into the soft, warm sands of Pangandaran and let the calming sound of the waves lull you into relaxation. Bask in the tropical sun, read a book, or take a rejuvenating nap under the shade of an umbrella—perfect for unwinding and replenishing your energy.
Ocean Adventures:
The inviting azure waters present the perfect opportunity for a refreshing swim. Whether you're an adept swimmer or seeking a leisurely paddle, the calm waters make for a delightful aquatic adventure.
Beachside Activities:
Enjoy a delightful picnic with a breathtaking ocean backdrop. Engage in beach sports or simply relish a tranquil walk along the shore. The extensive stretch of sand offers an ideal canvas for activities, ensuring there's something for everyone to relish.
Exploration and Discovery:
Embark on a journey to explore the remarkable rock formations that embellish the beach. These natural sculptures offer not just aesthetic beauty but also a chance for a mini-adventure. Ascend these formations for mesmerizing views and a unique coastal experience.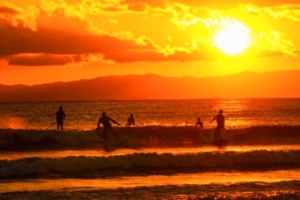 Mesmerizing Sunsets:
Cap your day at Pangandaran with the mesmerizing sight of the sun setting over the horizon. The sky bursts into a kaleidoscope of colors, painting a picture-perfect end to your beach day.
Remember to pack essentials like sunscreen, hats, and beachwear to protect yourself from the sun. Respect local guidelines and ensure you leave behind only footprints while relishing the stunning beauty of Pangandaran Beach.
5. Water Activities: Immersing in Aquatic Thrills at Pangandaran Beach
Pangandaran Beach is not only an ideal spot for relaxation but also a playground for water sports enthusiasts. The azure waters offer an array of aquatic adventures and experiences for visitors seeking a more adrenaline-fueled holiday.
Snorkeling and Underwater Delights:
Dive into the vibrant underwater world of Pangandaran through snorkeling. The crystal-clear waters reveal a kaleidoscope of colorful coral reefs and an array of marine life. Explore the depths and witness the mesmerizing beauty thriving beneath the ocean's surface.
Jet Skiing and Watercraft Rides:
Feel the rush of excitement by renting jet skis or enjoying the thrill of banana boat rides. Experience the exhilarating speed as you skim across the waves, creating unforgettable memories and moments of sheer delight.
Jet Skiing and Watercraft Ride services are available in Pangandaran Beach Holiday Guide.
---
| Service Provider | Activity | Duration | Price (Approximate) |
| --- | --- | --- | --- |
| Pangandaran Watersports | Jet Ski Rental | 15 minutes | $25 – $35 |
| Beach Adventures Co. | Watercraft Ride (Single) | 30 minutes | $30 – $40 |
| Ocean Thrills | Jet Ski Tour | 1 hour | $50 – $60 |
| Seaside Fun Rentals | Watercraft Adventure | 45 minutes | $40 – $50 |
| Coastal Excursions | Jet Ski and Parasailing | 2 hours (combo) | $80 – $100 |
---
These service providers offer thrilling Jet Ski and Watercraft rides at different durations and price ranges, allowing visitors to enjoy exhilarating experiences at Pangandaran Beach.

Surfing Adventures:
Pangandaran's renowned surf breaks beckon both novice and experienced surfers. Enroll in a surf lesson with local instructors or grab your board and challenge the waves. The beach provides an excellent opportunity to hone your surfing skills or experience the joy of riding the waves for the first time.
Boat Tours and Fishing Excursions:
Opt for a boat tour or fishing excursion to explore the coastal wonders or engage in a relaxing day of angling. The boat tours offer panoramic views of the shoreline, while fishing provides an immersive cultural experience intertwined with the local livelihood.
Rental prices for Boat Tours and Fishing Excursions at Pangandaran Beach:
---
| Service Provider | Activity | Duration | Price (Approximate) |
| --- | --- | --- | --- |
| Pangandaran Adventures | Sunset Boat Tour | 1.5 hours | $40 – $50 |
| Coastal Fishing Co. | Morning Fishing Excursion | 4 hours | $60 – $80 |
| Oceanic Tours | Island Hopping Boat Trip | 3 hours | $50 – $70 |
| Seashore Excursions | Deep Sea Fishing Experience | 6 hours | $80 – $100 |
| Beachfront Voyages | Snorkeling and Boat Adventure | 2.5 hours | $45 – $55 |
---
These service providers offer diverse boat tours and fishing excursions at different durations and price ranges, providing visitors with memorable experiences at Pangandaran Beach.
Safety First:
While indulging in water activities, prioritize safety by adhering to guidelines and instructions provided by experienced guides or instructors. Remember to wear appropriate safety gear and follow recommended safety measures to ensure a fun and secure aquatic escapade.
6. Surfing: Riding the Waves at Pangandaran Beach
Surfing at Pangandaran Beach offers a thrilling experience for surfers of all levels. Whether you're a seasoned pro or a beginner eager to catch your first wave, Pangandaran's surf breaks are a fantastic place to delve into the art of surfing.
Surf Lessons:
For novices, local surf schools and experienced instructors provide comprehensive lessons and guidance. These lessons cover everything from understanding the waves, proper techniques, board control, and safety measures. Even if you've never stood on a surfboard before, the patient and skilled instructors can help you catch your first wave.
Perfect Waves:
Pangandaran's waves offer an ideal setting for both learning and refining surfing skills. The consistent and manageable waves in this area are conducive to improving your abilities or enjoying a relaxed ride for more experienced surfers.
Board Rentals:
If you're a traveler or don't have your surfboard, various shops nearby offer rental services, providing a range of boards suitable for different skill levels. This option allows you to pick a board that matches your expertise and comfort, enabling a more enjoyable surfing experience.
Rental Providers and Prices:
| Rental Shop | Board Type | Rental Duration | Price Range (Approximate) |
| --- | --- | --- | --- |
| WaveRider Adventures | Shortboard | 2 hours | $10 – $15 |
| SeaSpray Rentals | Longboard | Full day | $15 – $20 |
| Surfer's Haven | Fish/Hybrid Board | Half day | $12 – $18 |
| AquaWave Rentals | Beginner Foam Board | Hourly | $8 – $12 |
| Beach Break Rentals | Performance Board | 3 hours | $12 – $17 |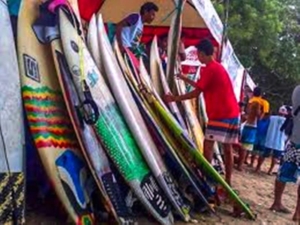 ---
These rental options offer a variety of boards, catering to different surfing styles and durations, ensuring a thrilling and enjoyable experience at Pangandaran Beach.
Advanced Surf Breaks:
For more seasoned surfers, Pangandaran offers challenging surf breaks with larger waves that can provide an exhilarating and rewarding surfing experience. Local surfers often frequent these spots, creating an opportunity to engage with the surfing community and learn from experienced individuals.
Safety Measures:
While enjoying the waves, it's crucial to follow safety precautions. Always assess the conditions, respect local surfing etiquette, and be mindful of other surfers in the water. Additionally, wearing appropriate surfing gear and staying within your skill level contribute to a safe and enjoyable surfing experience at Pangandaran Beach.
7. Eco Adventures: Embracing Nature's Wonders in Pangandaran
Pangandaran isn't just about its pristine beaches; it also offers a gateway to eco-adventures, inviting travelers to delve into the lush greenery and natural beauty surrounding the area.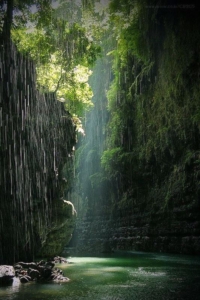 Green Canyon Exploration:
Embark on a captivating journey to Green Canyon, an awe-inspiring natural wonder near Pangandaran. Accessible by boat, this canyon features emerald-green waters surrounded by towering cliffs and lush vegetation. A boat rides through the canyon's river and the chance to swim in its refreshing waters make for an enchanting adventure amidst nature's splendor.
Green Canyon Exploration Ticket Prices Pangandaran Beach Holiday Guide
| Ticket Type | Description | Price Range (Approximate) |
| --- | --- | --- |
| Boat Tour Ticket | Explore the canyon via boat tour | $10 – $15 per person |
| | | |
| | Child Ticket (below 12 years old) | $5 – $8 per person |
| --- | --- | --- |
| Caving and Trekking Ticket | Access to the caves and hiking trails | $5 – $10 per person |
| | | |
| | Guided Trekking (Optional) | Additional $5 – $8 per person |
---
These ticket prices provide access to various activities at Green Canyon, offering an opportunity to explore the natural beauty of the area through different experiences.
Jungle Trekking:
Unleash your adventurous spirit by indulging in jungle treks within Pangandaran's rich forests. These treks present a chance to explore the diverse flora and fauna, with opportunities to spot unique wildlife such as exotic birds, macaques, and other indigenous species. Trained guides can enhance your trekking experience by providing insights into the local ecosystem and its inhabitants.
Waterfalls and Natural Pools:
Discover hidden waterfalls and natural pools nestled within the verdant landscape surrounding Pangandaran. These secluded gems offer an escape from the bustling beach environment, inviting you to immerse in the tranquility of nature while relishing the cool, pristine waters.
Cultural Encounters:
Engage with local communities and witness traditional village life. Gain insights into the local culture by participating in cultural events or observing authentic Sundanese traditions. These encounters provide a deeper understanding of the region's heritage and foster a connection to the local way of life.
Conservation Efforts:
Participate in eco-friendly initiatives or support local conservation programs to contribute to the preservation of Pangandaran's natural beauty. Respect nature and adhere to eco-tourism principles, ensuring you leave minimal impact on the environment while enjoying these captivating eco-adventures.
8. Local Cuisine: Savoring the Flavors of Pangandaran
Exploring Pangandaran is not just about its natural beauty; it's also a delightful journey into the local culinary scene, offering an array of delectable dishes and flavors that capture the essence of the region.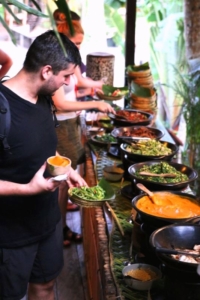 Fresh Seafood Delights:
With its proximity to the sea, Pangandaran is renowned for its fresh seafood. Indulge in an array of seafood dishes, including grilled fish, succulent prawns, and various shellfish, often served with traditional sambal (spicy chili sauce). Sample the 'ikan bakar' (grilled fish), a local specialty loved for its aromatic and flavorful preparation.
Nasi Goreng and Local Staples:
Dive into the flavors of Indonesian cuisine by trying the famous 'nasi goreng' (fried rice) along with other local staples. These dishes often incorporate a blend of spices, offering a tantalizing fusion of flavors that reflect the vibrant Indonesian culinary heritage.
Rendang and Sundanese Delicacies:
Delve into traditional Sundanese dishes, such as 'rendang' (spicy beef stew) and 'lalapan' (fresh vegetables with chili paste), offering a unique and savory culinary experience. These dishes reflect the authenticity and rich culinary heritage of the local Sundanese culture.
Warungs and Local Eateries:
Explore the local warungs (eateries) and restaurants, which offer an authentic taste of Pangandaran's cuisine. These establishments provide a more intimate dining experience, often allowing visitors to savor the diverse and aromatic local dishes in a cozy and welcoming atmosphere.
Street Food Excursions:
Venture into the streets of Pangandaran to discover street food stalls offering a variety of snacks and quick bites. Don't miss the opportunity to taste local specialties, such as 'martabak' (stuffed pancake) or 'sate' (grilled skewered meat), providing a burst of unique and flavorful experiences.
Culinary Tours and Cooking Classes:
Engage in culinary tours or cooking classes to delve deeper into the culinary arts of Pangandaran. Gain hands-on experience in preparing local dishes and understanding the secret behind the tantalizing flavors of Indonesian cuisine.
Immerse yourself in the culinary tapestry of Pangandaran, sampling the diverse and delicious dishes that define the heart and soul of this beautiful beach destination.
9. Cultural Experiences: Immersing in Pangandaran's Rich Heritage
Pangandaran's allure extends beyond its natural beauty, offering a vibrant tapestry of cultural experiences that provide insight into the local traditions and way of life.
Traditional Sundanese Performances:
Embrace the local culture by attending traditional Sundanese dance performances. These captivating displays feature colorful costumes and graceful movements, offering a glimpse into the region's artistic heritage.
Artisan Craft Demonstrations:
Witness local artisans crafting traditional items like batik fabrics and intricate wooden carvings. Observing these skilled artisans at work provides a deeper understanding of the craftsmanship and artistry embedded in Pangandaran's culture.
Visiting Cultural Sites:
Explore the richness of local culture by visiting historic and cultural sites. Engage in educational tours to understand the significance of landmarks, temples, or historical buildings that hold tales of Pangandaran's past.
Traditional Markets and Festivals:
Immerse yourself in the hustle and bustle of local markets, where you can witness the vibrancy of daily life and interact with locals. Additionally, attending cultural festivals provides an opportunity to celebrate and partake in the joyous spirit of traditional customs and festivities.
Interaction with Locals:
Engage in conversations with locals, as they often hold the key to understanding the heart of Pangandaran. Be open to learning about their traditions, beliefs, and stories, fostering a deeper connection and appreciation for the local way of life.
Homestay Experiences:
Consider opting for a homestay to truly immerse yourself in the local culture. Staying with a local family allows for a firsthand experience of daily routines, traditions, and customs, offering a more authentic and enriching cultural experience.
By embracing these cultural experiences, visitors gain a profound insight into the heritage and traditions that shape Pangandaran, creating lasting memories and a deeper appreciation for the community and its customs.
10. Safety Precautions: Ensuring a Secure Experience at Pangandaran
While Pangandaran offers a spectacular and vibrant environment, ensuring safety is paramount for a fulfilling and worry-free holiday experience.
Swimming Caution:
When enjoying the beach, be mindful of the ocean's conditions. Heed the advice of lifeguards and be cautious of strong currents or rip tides. Ensure weaker swimmers or children are under supervision and equipped with appropriate safety gear.
Sun Protection:
The tropical sun can be intense, so don't forget to protect yourself with sunscreen, hats, and sunglasses. Stay hydrated and seek shade during peak sun hours to avoid sunburn or heat-related issues.
Water Sports Safety:
If partaking in water sports activities, ensure you adhere to safety guidelines provided by instructors. Use safety equipment, such as life jackets for boating activities, and follow instructions carefully to prevent accidents.
Respect Nature:
Embrace responsible tourism by respecting the environment. Avoid littering and dispose of trash in designated areas. Protect wildlife by refraining from feeding or disturbing animals and refraining from damaging or removing coral while snorkeling.
Stay Hydrated:
Pangandaran's tropical climate can be dehydrating. Ensure you stay hydrated by drinking plenty of water, particularly during outdoor activities, to prevent heat exhaustion or dehydration.
Follow Local Guidelines:
Familiarize yourself with local customs and rules. Respect the culture and traditions of the region, and follow instructions provided by locals or guides to ensure a smooth and respectful interaction within the community.
By prioritizing safety measures, visitors can fully relish the beauty and experiences Pangandaran offers while ensuring a secure and enjoyable holiday.
11. Sunset Views: Embracing the Splendor of Pangandaran's Dusk
Witnessing the sun setting over Pangandaran Beach is a mesmerizing experience, offering a serene and picturesque moment that encapsulates the beauty of nature.
Scenic Spots:
Discover prime spots along the coastline that provide breathtaking views of the sunset. Choose a peaceful area on the beach or explore nearby elevated viewpoints to relish the unobstructed panoramic sight as the sun slowly descends on the horizon.
Savoring Tranquility:
Take this time to unwind and appreciate the tranquility as the sky transforms into a canvas of colors. The varying hues of orange, pink, and purple paint a remarkable visual spectacle that captivates the senses and creates a serene atmosphere.
Capture the moment:
Consider bringing a camera or smartphone to capture the beauty of the sunset. Snap photos to immortalize the stunning colors and create lasting memories of this picturesque moment by the sea.
Relaxing Ritual:
Embrace this daily occurrence as a serene ritual during your stay. Settle into a comfortable spot, breathe in the fresh sea air, and relish the serenity while the sun's final rays paint a mesmerizing picture across the sky and water.
Reflective Time:
Use the sunset as an opportunity for reflection and introspection. Allow the calming ambiance to create a peaceful moment for contemplation and appreciation of the natural beauty unfolding before your eyes.
The sunset at Pangandaran is not just a visual feast; it's a soul-stirring experience that connects visitors to the beauty of nature, providing a memorable and magical moment each evening.
12. Souvenir Shopping: Collecting Mementos of Your Pangandaran Journey
Exploring Pangandaran isn't complete without indulging in the local shopping experience to acquire unique souvenirs and keepsakes that encapsulate the charm of this seaside paradise.
Traditional Handicrafts:
Browse through the local markets and artisan stalls that showcase traditional handcrafted items. From intricately designed batik fabrics to wooden carvings, these items reflect the rich cultural heritage of Pangandaran.
Seaside Treasures:
Take home a piece of the beach by collecting shells, beach glass, or unique stones. These natural souvenirs from Pangandaran Beach hold the essence of the sea and the area's natural beauty.
Local Delicacies:
Explore local food markets and pick up specialty items such as spices, coffee, or regional treats. These edible souvenirs not only offer a taste of Pangandaran but also make for delightful gifts for friends and family back home.
Batik and Textiles:
Batik, a traditional Indonesian cloth, showcases intricate designs and vibrant colors. Consider purchasing batik textiles, scarves, or clothing as a representation of the region's distinctive artistry.
Handcrafted Jewelry:
Discover locally made jewelry, such as beaded accessories or pieces crafted from natural materials like shells or coral. These adornments are unique and hold a piece of Pangandaran's coastal charm.
Local Handcrafted Jewelry in Pangandaran
| Jewelry Item | Description | Price Range (Approximate) |
| --- | --- | --- |
| Seashell Pendant Necklace | Handcrafted from locally collected seashells, | $10 – $15 |
| | featuring unique patterns and ocean-inspired design | |
| --- | --- | --- |
| Bamboo Earrings | Intricately woven bamboo earrings in various shapes | $5 – $8 |
| | and sizes, showcasing local craftsmanship | |
| --- | --- | --- |
| Coral Reef Bracelet | Bracelet adorned with natural coral pieces and | $15 – $20 |
| | colorful beads, reflecting the marine beauty of | |
| | Pangandaran's coast | |
| --- | --- | --- |
| Cowrie Shell Ring | Rings with cowrie shells found on the shores of | $8 – $12 |
| | Pangandaran, designed with adjustable bands | |
| --- | --- | --- |
| Batik Fabric Earrings | Earrings made from local batik fabric, featuring | $12 – $18 |
| | traditional Indonesian patterns, a cultural treasure |
| --- | --- |
Local Artwork:
Seek out local artwork and paintings that capture the beauty of Pangandaran. These pieces often depict stunning landscapes, vibrant sunsets, or scenes of local life, providing an artistic representation of your journey.
Remember to negotiate prices respectfully when buying from local vendors, and ensure that the souvenirs you purchase comply with customs regulations to avoid any issues when returning home. These mementos will not only serve as reminders of your Pangandaran adventure but also support the local artisans and community.
13. Respect the Environment: Sustaining Pangandaran's Natural Beauty
Preserving the natural allure of Pangandaran Beach is vital for the sustained beauty and sustainability of this stunning destination.
Dispose of Waste Responsibly:
Carry the principle of 'leave no trace' by properly disposing of your waste in designated areas. Opt for reusable items, reduce single-use plastic, and be conscious of your ecological footprint during your stay.
Protect Marine Life:
While engaging in water activities, be mindful of the marine ecosystem. Avoid touching or damaging coral reefs, refrain from feeding marine life, and respect the aquatic environment by observing without interfering.
Follow Designated Trails:
Stick to established paths and trails when exploring nature reserves or forested areas. This helps in preserving the flora and fauna and prevents environmental degradation due to human impact.
Conserve Water:
Being in a coastal area, water is a precious resource. Use water sparingly, especially in arid seasons, and support local efforts in water conservation initiatives.
Respect Local Customs:
Understand and respect the cultural and environmental norms of the area. Follow local guidelines, support eco-friendly initiatives, and be considerate of the local community's efforts in preserving Pangandaran's natural splendor.
Educate and Advocate:
Share your knowledge and commitment to environmental preservation with fellow travelers. Advocate for sustainable tourism practices and encourage others to respect and protect the environment while exploring Pangandaran.
By fostering a culture of environmental awareness and respecting the natural beauty of Pangandaran, visitors contribute to the conservation and sustainability of this breathtaking destination for future generations to enjoy.
Ensure you dispose of your trash responsibly and respect the natural beauty of Pangandaran. It's vital to preserve this paradise for future generations.
14. Wildlife Encounters: Embracing Nature's Marvels at Pangandaran
Pangandaran's biodiversity offers travelers a chance to witness an array of unique wildlife in their natural habitats, creating unforgettable encounters with nature.
Bird Watching:
Pangandaran is a haven for bird enthusiasts. Bring your binoculars and explore the region's diverse avian species. With luck, you might spot vibrant kingfishers, majestic eagles, or the melodious calls of various songbirds within the forests.
Monkey Encounters:
As you explore the area's lush jungles, keep an eye out for playful long-tailed macaques. These friendly creatures often roam around, offering an opportunity to observe their social interactions and behaviors in the wild.
Turtle Conservation:
Pangandaran plays a role in sea turtle conservation. Visitors can sometimes witness these ancient reptiles coming ashore to lay their eggs during nesting seasons. Local conservation efforts aim to protect these creatures and offer a chance to learn more about their lifecycle and challenges.
Mangrove Exploration:
Venture into the nearby mangrove forests to observe diverse species of birds, fish, and reptiles that inhabit these unique ecosystems. Explore the intricate network of roots and waterways that provide a haven for diverse wildlife.
Responsible Observing:
While observing wildlife, maintain a respectful distance and avoid interfering with their natural behavior. It's crucial to respect their habitat and refrain from feeding or interacting with the animals to ensure their well-being and safety.
By partaking in these wildlife encounters with respect and admiration for nature, visitors can gain insight into the rich and diverse ecosystem that thrives within Pangandaran, creating cherished memories of the area's natural wonders.
15. Relax and Unwind: Rejuvenation at Pangandaran Beach
Pangandaran offers an array of opportunities to unwind and embrace a tranquil retreat, ensuring a truly relaxing and rejuvenating experience.
Beachfront Relaxation:
Indulge in a leisurely day at the beach, reveling in the soothing sound of the waves. Lounge under an umbrella with a good book, take a peaceful walk along the shore, or simply bask in the sun, allowing the ocean's rhythm to wash away stress.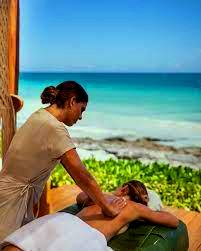 Spa and Wellness:
Pamper yourself with spa treatments or wellness activities available at various resorts. Enjoy massages, yoga sessions, or meditation classes that offer relaxation and rejuvenation amidst serene surroundings.
Spa and Wellness Services at Pangandaran Beach Resort
| Service | Description | Price Range (Approximate) |
| --- | --- | --- |
| Massage Therapies | | |
| Traditional Balinese Massage | 60 minutes | $40 – $60 |
| | 90 minutes | $55 – $75 |
| Aromatherapy Massage | 60 minutes | $45 – $65 |
| | 90 minutes | $60 – $80 |
| Beauty Treatments | | |
| Facials | Basic Facial | $30 – $50 |
| | Anti-aging Facial | $50 – $70 |
| Manicure and Pedicure | Manicure | $20 – $30 |
| | Pedicure | $25 – $35 |
| Special Packages | | |
| Couple's Retreat | 120 minutes for two | $180 – $220 |
| | Includes massage, Jacuzzi, and refreshments | |
| Full Day Spa Package | 5-hour package | $200 – $250 |
| | Includes multiple treatments, lunch, and access to spa facilities | |
---
Please note, these prices are approximate and subject to change based on the specific services, quality, and location of the resort. For the most accurate and updated pricing, it's recommended to contact the resort directly.
Seaside Dining:
Relish local cuisine at beachside restaurants or enjoy a picnic while watching the sunset. Take in the delightful flavors of Pangandaran while savoring the breathtaking views the beach has to offer.
Cultural Immersion:
Engage in cultural experiences, such as attending traditional performances or visiting local markets. These activities offer a chance to unwind while gaining insight into the cultural heritage of the region.
Mindful Reflection:
Find a peaceful spot, breathe in the fresh sea air, and take a moment for mindfulness and reflection. Embrace the beauty of the surroundings, allowing yourself to feel rejuvenated and at ease.
Digital Detox:
Consider disconnecting from technology and immerse yourself fully in the natural beauty around you. Unplugging from devices can provide a refreshing break, allowing you to focus on the present moment and the serenity of the environment.
By embracing these opportunities for relaxation, visitors can recharge, rejuvenate, and create lasting memories of a serene and peaceful retreat at Pangandaran.
Pangandaran Map:
Conclusion
In conclusion, Pangandaran Beach Holiday Guide stands as a remarkable destination, offering a diverse tapestry of experiences for travelers seeking natural beauty, cultural immersion, and relaxation. The allure of this coastal haven extends beyond its pristine shores, weaving together an amalgamation of opportunities for adventure, cultural exploration, and moments of tranquility.
The picturesque landscapes, from the golden sandy shores to the lush forests and enchanting sunsets, provide a canvas of natural beauty that captivates the senses. The region's biodiversity offers glimpses into unique wildlife and conservation efforts, fostering an appreciation for the rich ecosystems thriving within Pangandaran.
Moreover, the cultural experiences and savory delights, from traditional dances to delectable local cuisines, offer a taste of the vibrant heritage and community spirit. Exploring the local markets and artisanal crafts allows visitors to bring home cherished mementos while supporting local artisans and their traditions.
It's imperative to immerse oneself in the beauty of Pangandaran Beach Holiday Guide while being mindful of the environment, respecting local customs, and prioritizing safety. By doing so, travelers contribute to the preservation and sustainability of this remarkable destination for generations to come.
Whether seeking thrilling adventures, cultural insights, or simply unwinding by the sea, Pangandaran encapsulates the perfect blend of experiences, ensuring a memorable journey that leaves an indelible mark on every visitor's heart.
The allure of Pangandaran beckons travelers to embrace its beauty, savor its flavors and treasure the moments spent within its captivating embrace. A sojourn to this tropical paradise promises not just a holiday but an unforgettable tapestry of experiences and memories.
FAQs Pangandaran Beach Holiday Guide
1. Is Pangandaran Beach suitable for families?
Absolutely! Pangandaran Beach offers a variety of family-friendly activities and calm waters for safe swimming.
2. What is the best way to get to Pangandaran from Jakarta?
You can either take a train or a bus from Jakarta to reach Pangandaran. The train journey is more comfortable, while the bus is more budget-friendly.
3. Are there any safety concerns regarding marine life?
While the marine life at Pangandaran is generally safe, it's always a good idea to follow local guidance on safe swimming practices.
4. Can I rent surfboards and snorkeling equipment on the beach?
Yes, you can easily rent surfboards and snorkeling equipment from shops located near the beach.
5. Is there a nightlife scene in Pangandaran?
Pangandaran offers a modest nightlife scene with beachfront bars and cafes that come alive in the evening. However, it's not as bustling as some other tourist destinations.